40 Festive Christmas Crafts for Kids to Make This Holiday Season
Using black paint, permanent marker, or tape, have kids create a thick stripe around the middle of a red ornament. Cut a small square of gold glitter paper and cut a smaller square in the middle so it looks like a belt buckle. Glue the buckle to the center of the black line to create Santa's belt.
25 Festive and Easy Christmas Crafts for Kids to Make This Holiday Season
Toddlers to tweens will have hours of holiday fun with these DIY ideas.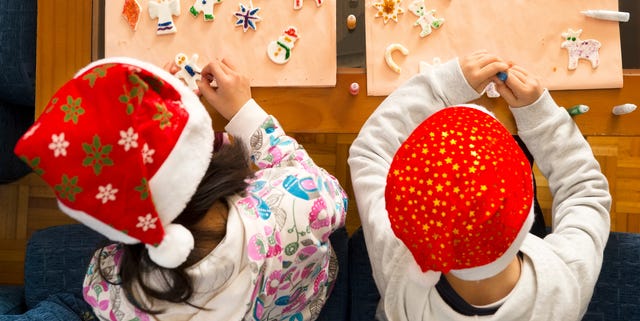 The weeks leading up to Christmas are some of the most exciting all year, especially for kids (and kids at heart) anxiously awaiting Santa's arrival on Christmas Eve. It's also one of the busiest times of year for parents, who are scrambling to buy gifts for everyone on the list, get the house ready for holiday visitors, and finalize the Christmas dinner menu — all while keeping the kids entertained during winter break. The good news is, easy Christmas crafts are one of the best ways to ensure little hands stay busy and safe while you focus on holiday preparations. Plus, kids will enjoy helping display their homemade decorations. You can make new family traditions and have the kids create Christmas keepsakes, like ornaments and wreaths, which can be hung up this year and for years to come.
Christmas DIYs don't need to be fancy, either. Keep the materials list short for less stress and less expense — you'd be surprised by how much you can do with construction paper, clothespins, and popsicle sticks. These 25 easy and festive Christmas crafts allow kids to get creative and embrace the holiday spirit, without making too much of a mess. And when you need more ideas for fun, kid-friendly Christmas activities, you can't go wrong with our lists of the best Christmas movies for kids, the best Christmas cookie recipes, and Christmas party games for all ages. You can even call Santa Claus on the phone now!
Paper Wreath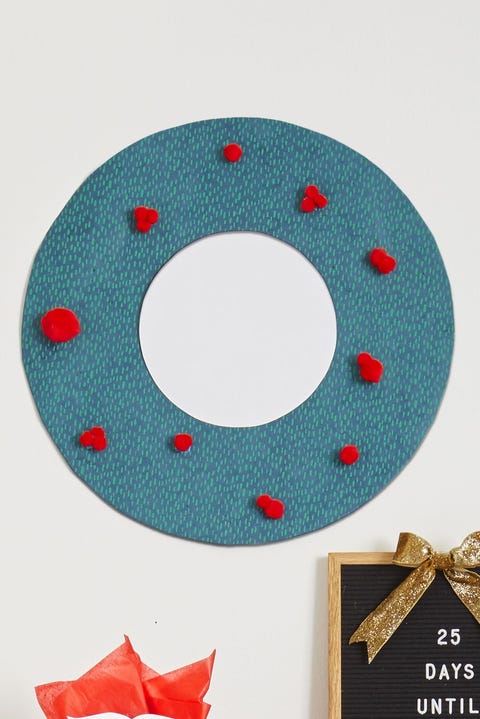 Danielle Daly
Trace and cut out a large circle (about 18 inches in diameter) of green construction paper or patterned scrapbook paper. Then, cut out a small circle (about 6 inches in diameter) in the middle to create a wreath shape. Using dots of glue, attach pom poms in various sizes around the wreath to look like berries.
Glittering Popsicle Stick Christmas Tree Ornaments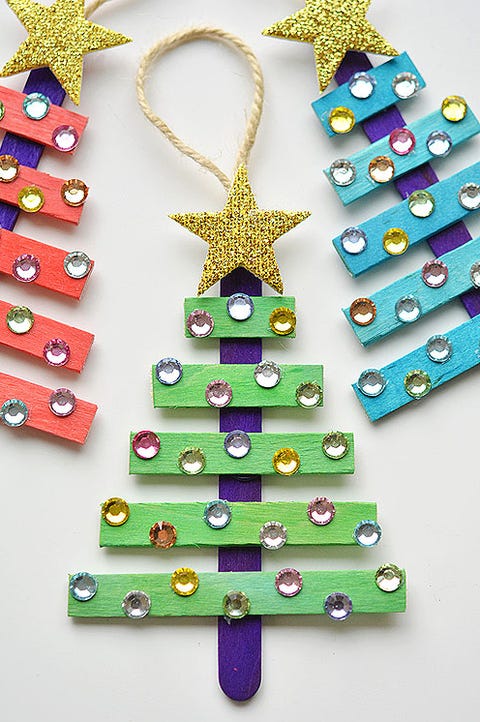 One Little Project
Is it even a kids' craft if it doesn't involve colorful popsicle sticks? Grab some stick-on rhinestones, or pom poms and hot glue, to make these adorable tree ornaments.
Santa Ornament
Using black paint, permanent marker, or tape, have kids create a thick stripe around the middle of a red ornament. Cut a small square of gold glitter paper and cut a smaller square in the middle so it looks like a belt buckle. Glue the buckle to the center of the black line to create Santa's belt.
Owl Ornament
This cute little owl is super simple to make and will look great on your tree this year. We can guarantee making it will be a real hoot.
Frosty Peppermint Snowman
To make this adorable craft, simply sprinkle icing sugar into the bottom of a glass canister and then stack three peppermint candies on top to build a snowman, affixing the pieces together with glue as you go along.
Use brown or black icing for the eyes and mouth, and glue a striped candy atop a circle of black paper for a hat. Tie a red ribbon around the neck of the jar for a finishing touch.
Fluffy Santa Ornament
This fuzzy little Santa makes for a great tree ornament, or can be hung on any doorknob for a festive touch.
Sparkling Star Ornament
To make this sparkly star, push whole and halved toothpicks into a 1-1⁄2″ foam ball. Then apply 1 to 2 coats of silver spray paint. While it's still wet, dust silver glitter over the entire ornament. Once it's dry, use a dab of hot glue to attach a string for hanging.
Simple Felt Stockings
Kids will love getting to make their own stocking, and knowing that Santa will see their handiwork when he comes down the chimney on Christmas Eve.
Dangling Star Ornaments
These star ornaments combine the best of both worlds: crafting and baking. To make them, mix 1 cup of salt, 2 cups of flour, and 3/4 cups of water (and any food coloring you'd like). Then knead the mixture until thoroughly blended.
Once it's mixed, roll out dough and cut it into shapes with cookie cutters. Grab a skewer and use it to poke a hole in the top for a ribbon to go through later. Then bake the ornaments at 350° for 10 minutes. Once they've cooled, hot glue decorative sequins and string a ribbon through the hole.
Personalized Christmas Stockings
Help kids personalize their own stockings with an afternoon spent decorating. Provide plain burlap stockings and plenty of DIY embellishments: Fabric paint, ribbon, pom pom trim, felt cut-outs, and holiday stickers.
Peppermint Ornaments
The best part about this craft? Getting to eat as many peppermints as you can while you make them, of course! Plus, they are so simple to make that even the tiniest of kiddos can help out.
Clothespin Snowflake Ornaments
There's something about crafting with clothespins that instantly reminds us of childhood, and these pretty star ornaments are the perfect example of a classic childhood craft.
Winter Ice Wreath
It doesn't get much easier than dropping sliced fruit into a bundt cake tray filled with water. Plus, this doubles as a bird feeder, so your kids can enjoy some wildlife right at your doorstep.
Twig Ornaments
Have the kids collect small sticks outside (bonus: everyone gets some fresh air!), then use twine and colorful wire to tie them together in star and tree shapes to make pretty ornaments inspired by nature.
Pinecone Gnome Ornament
If you've got pinecones in the yard, put them to good use making these adorable jolly gnome ornaments.
Santa Advent Calendar
After making this cheerful construction paper Santa advent calendar, kids can attach a cotton ball every day during the month of December. On Christmas morning when the countdown is complete, Santa will have a full beard.
Candy Cane Garland
How sweet is this simple candy cane heart garland? To make, all you have to do is attach candy canes together with hot-glue. Then, tie twine around canes where glued, and just hang over red twine.
DIY Hot Cocoa Kit Gift
Kids will love lending a hand to make these DIY hot cocoa kits — and they'll be happy to taste test while assembling the gifts. To create, simply paint a red circle with acrylic paint (or use a round red sticker) on a 1-cup mason jar. Once dry paint on a bit of greenery and write hot cocoa. Layer hot cocoa mixture, chocolate chips, and mini marshmallows in the jar. Place a square of seasonal fabric between the lid and screw band and tighten.
Felt Ties Wreath
This fun felt wreath DIY requires no sewing — kids just tie felt strips around a wreath form. If you have younger children, you can easily skip the hot glue "berries," too. To make, cut strips of two different shades of green felt. Then, tie strips around a wreath form. Attach small red ornaments throughout the wreath with hot glue. Loop a length of wide ribbon around the wreath to hang.
Popsicle Stick Snowflake Ornaments
Embroidery thread adds a pop of color to these simple popsicle stick ornaments. To make, our friends at Good Housekeeping say to first paint popsicle sticks white and let dry. Arrange matching sizes into a X-shape and glue together in the middle. Arrange 2 X's diagonally on top of each other to create a snowflake shape and glue in the middle. Let dry completely. Weave colored embroidery thread around the popsicle sticks to create an X or grid pattern. Tie the thread at the back of the snowflake and trim any excess. Glue a ribbon loop to the back of the snowflake to hang.

Laura is a NYC-based freelance writer. When she's not binging the latest true crime docu-series, she's obsessing over all things Harry Styles, RHONY, and John Mulaney. You can follow her on Instagram @lauraehanrahan
Jamie Kravitz (she/her) is the digital editor at Woman's Day, where she oversees the brand's digital platforms and covers holidays, food, and more. Before joining WD in 2021, she was a digital editor at the Rachael Ray Show. Jamie has over five years of experience writing relationship, entertainment, home, and gifting content for publications including The Knot, Martha Stewart Weddings, Insider, and Elite Daily. She graduated from Emerson College with a BFA in Writing, Literature and Publishing and lives in Brooklyn with her cats, Lumos and Linus.
40 Festive Christmas Crafts for Kids to Make This Holiday Season
Create easy homemade ornaments, wall decor and even gifts for loved ones with these helpful DIYs.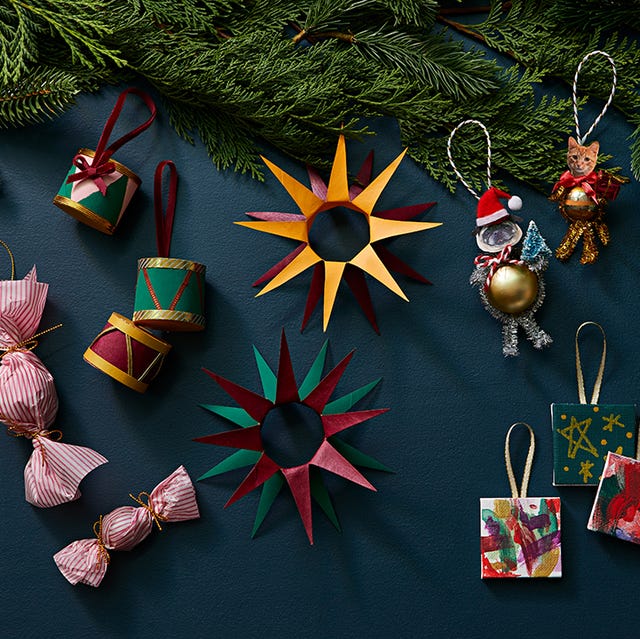 There's a lot of fun to be had at Christmas. It's a busy time decorating gingerbread houses, decking the halls with boughs of holly, finding the perfect gifts for your kids, siblings, mothers, fathers and more, and of course, creating homemade crafts that only add to the home's holly jolly spirit or make the perfect DIY gift for a loved one. With a season so busy with activities, crafts are also a great way to keep the kids occupied, even if only for a while, so you can wrap some presents, and bake a few batches of cookies for the neighbors. But they have to be easiest enough for little ones to do on their own or with just a little help. That's where these best Christmas crafts for kids come in.
With homemade ornament ideas and colorful tree toppers to advent calendars and creative "candy pots," this list offers a wide variety of kid-friendly craft ideas for any age — even options that are fun for adults to make themselves! Christmas can seem stressful but it should be a time of joy, excitement and love, so take a break from the cooking and running around and enjoy making some of these Christmas crafts for kids with your little ones this holiday season.
Mini Canvas Ornament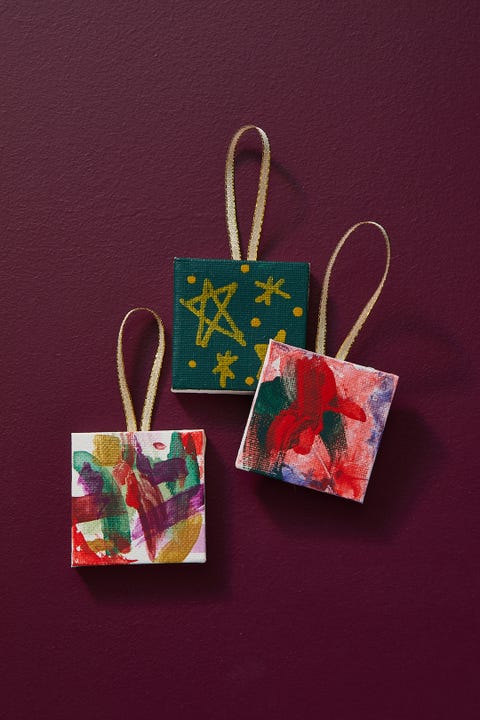 gh
This super easy craft lets children explore their inner artists and create mini masterpieces that make a great addition to any tree. Simply use acrylic craft paint and paint pens to decorate mini canvases. Once dry, attach a ribbon hanger to the back with glue and then add to your tree. In need of some gift inspo? These make great ornaments and decorative gift tags for grandparents, teachers, babysitters, and friends as well!
DIY Toy Drum Ornaments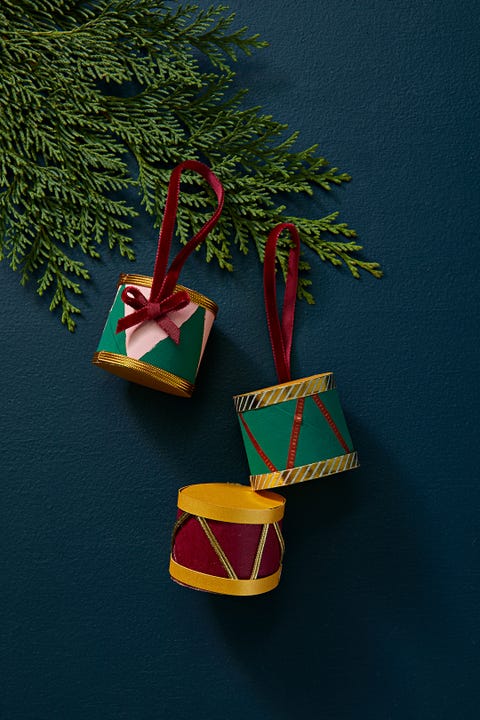 gh
Your everyday toilet paper rolls have never looked so good thanks to this tutorial. To create these toy drum ornaments, cut down a toilet paper roll with scissors to about 1.5"-2" tall. Then, paint the outside with acrylic paint and let dry. Cut two circles that are the size of the opening of the roll out of craft paper, and attach using some hot glue. Add any details you want onto the side of the drum, like making a crisscross pattern with washi tape or ribbon attached with a thin line of hot glue if needed. Use a strip of washi tape, ribbon or craft paper attached onto the top and bottom of the "drum" to create a clean straight line. Add on a loop of ribbon with a dot of hot glue onto the side to hang your little drums onto the tree!
Wrapped Candy Ornaments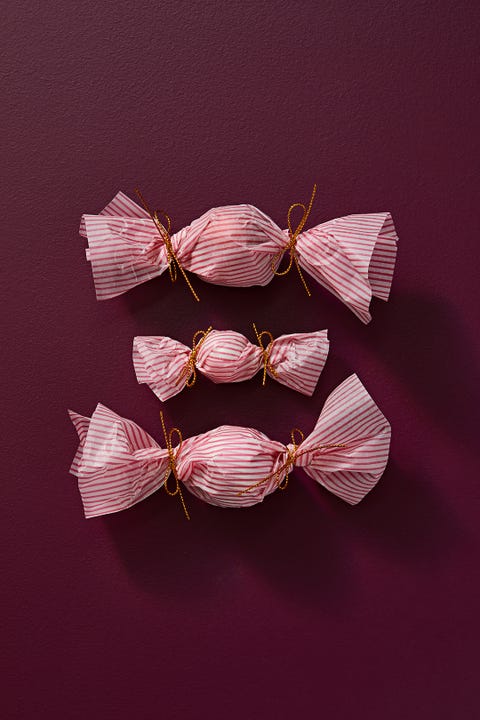 gh
A great way to repurpose mismatched or boring ornaments! Cut a square of parchment paper and place a round ornament in the center. Wrap the paper around it like a candy, twisting the paper to secure it. Add decorative bows to either end and hang.
Starburst Ornament and Tree Topper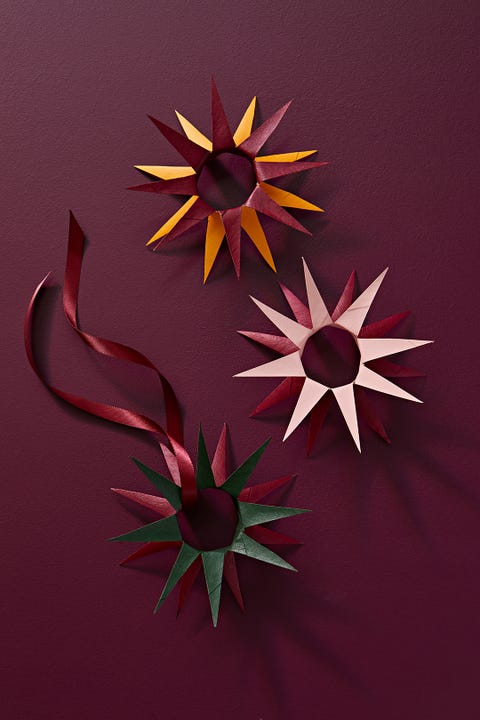 gh
You can easily make use of toilet paper rolls and leftover scraps of wrapping paper in this DIY craft — which can be designed as an ornament or a tree topper. Start by painting the inside and outside of the toilet paper rolls with contrasting paint colors and let dry completely. Measure 2" down the roll and mark all the way around, and then flip the roll over and measure 2" down and mark all the way around so you have a ½ wide inch gap marked in the middle of the roll.3. Starting on one end cut 8 evenly spaced lines stopping at the 2" mark you made. Flip the tube around and repeat step 3 on the other side. Fold down the cuts you made on one side and cut the rectangles into points with your scissors. Repeat step 5 on the other side.Finish the star off by flattening the folds down to make sure they stay in place. Add a ribbon and hang the ornament onto the tree or use it as your tree topper this Christmas season.
Animal/Family Ornaments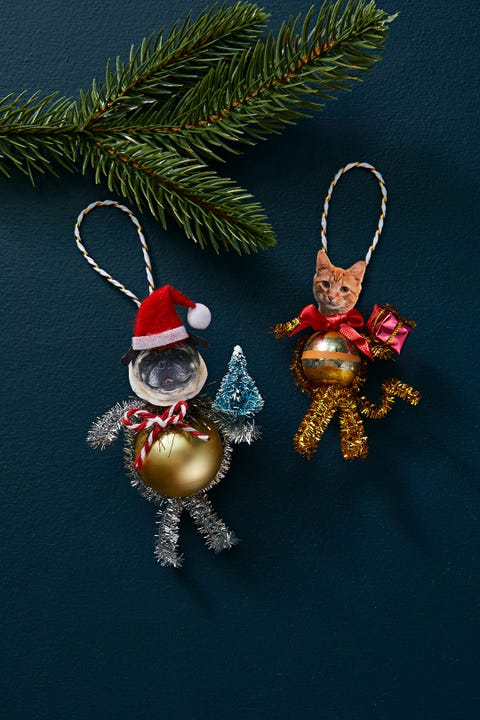 gh
Even our furry friends deserve a place on the tree. Start creating these purrr-fect ornaments by wrapping a pipe cleaner around a small ornament (using hot glue if needed). Create little legs by folding the pipe cleaner in half. Add on another set of legs and tail by cutting small bits of pipe cleaner to the one you have wrapped around the ornament by twisting it or adding a small dot of hot glue to secure. Then, use hot glue to add your pet's printed-out face on top and any other small decorations you wish. Add a string to hang with hot glue and your ornament is complete!
DIY Upcycled Wallpaper Ornaments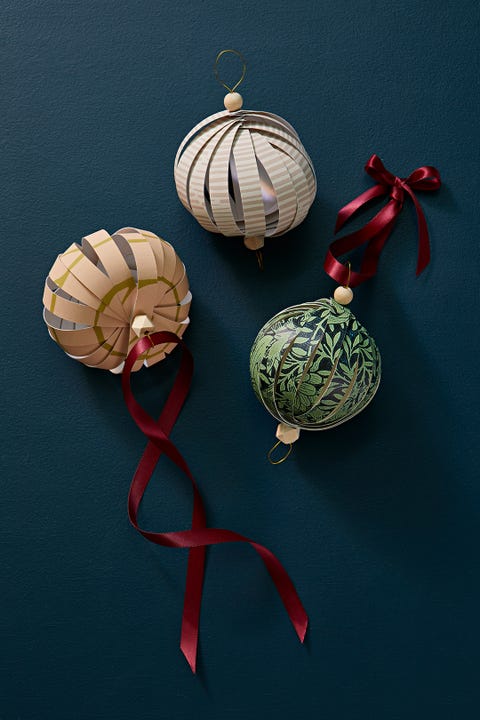 gh
Take advantage of old wallpaper scraps or buy a pack of your own to create these unique ornaments. Cut wallpaper into nine .5" x 10" strips. Poke three holes in each strip (top, middle and bottom). Thread a wooden bead onto a 10" piece of floral wire and wrap the wire around itself to secure. Next, add paper strips onto the wire through the center hole. Thread each end of the bottom strip onto the wire. Move clockwise repeating with each strip until all ends are on the wire. Add on another wooden bead and make a loop of wire and wrap it around itself to secure. Tie a ribbon on top to hang.
Pine Cone Swan Ornament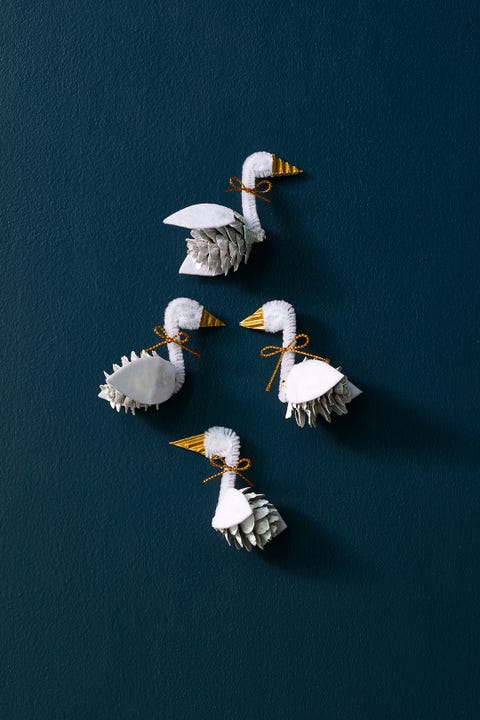 gh
Bring the "seven swans a swimming" from the iconic "12 days of Christmas" song to life with this easy tutorial. Paint a mini pinecone white and let dry completely. Roll the end of a white pipe cleaner around itself to make a little head for your swan. Cut the pipe cleaner about 1" below the head you made and attach it to one end of the pinecone with a dot of hot glue to create your swan's neck and head. Cut a small triangle out of your gold craft paper and attach it to the side of the pipe cleaner head to make your beak. Cut out two small wing shapes out of felt and hot glue them onto the side of the pinecone to make your wings. Add a looped piece of string to the swan to create an ornament and show off proudly on the tree.
Biodegradable Garlands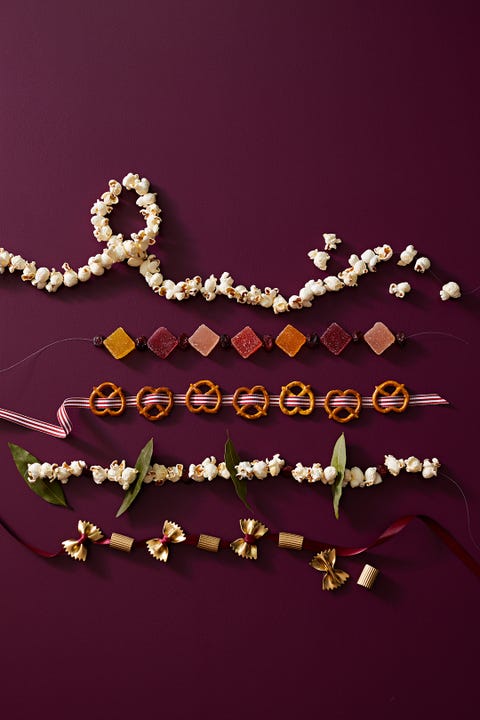 gh
Biodegradable and compostable, these old-school style garland strands are a great way to use old pantry staples and create one-of-a-kind Christmas tree decor. Thread a needle and sturdy monofilament through leftover or stale pantry items like popcorn, dried fruits, bay leaves and candy. Or loop decorative ribbon around pretzels and dried pasta for an unexpected twist! We painted our pasta metallic gold for extra shine! Hang on your Christmas tree, out of reach from small children and pets. Once the holidays are over, remove the monofilament/ribbon and pop in your nearest compost bin!
Pine Cone Flower Ornaments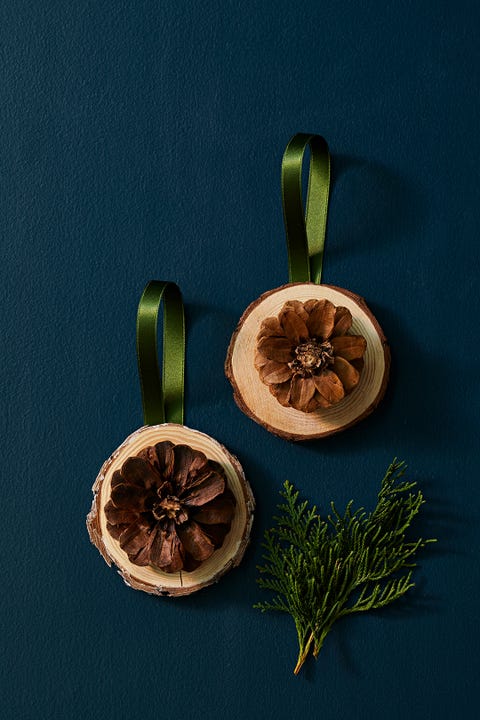 gh
Using sturdy floral clippers, cut off the bottom half of a pinecone — it's easiest to make a few cuts and twist until the pinecone breaks. Hot glue the bottom of the pinecone to a round wooden disk. Once dry, glue a ribbon loop on the back of the wooden disk to hang.
Popsicle Stick Wreath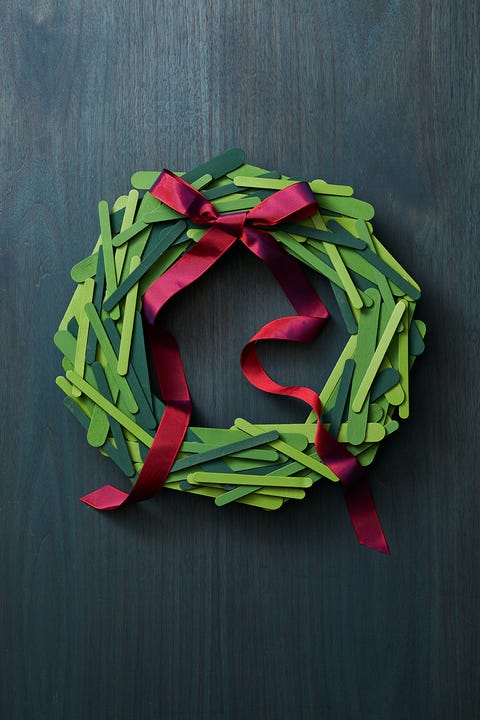 Stock up on small and large craft sticks, then have the kids paint them three different shades of green. Glue the sticks to a 12″ foam wreath, overlapping and mixing the shades of green as you go. A red ribbon finishes off the look.
Paper Bag Snowflakes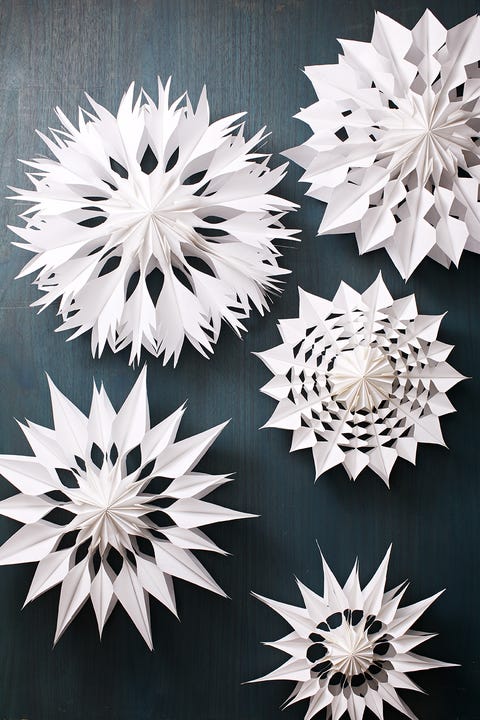 Mike Garten
These intricate paper snowflakes only look hard to make! Break out the safety scissors and craft paper and get to work making these beautiful and delicate window hangings.
Marbled Nail Polish Tree Ornaments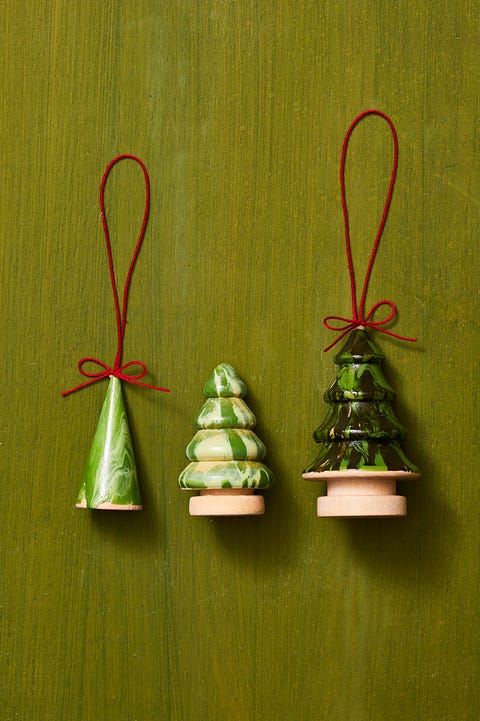 Mike Garten
If you already have a few shades of green nail polish, this craft is for you! Drizzle two or three shades of green polish into a cup of cold water. Holding the base, dip your wooden tree into the mixture (making sure the entire area is covered). Hold it over a paper towel until it's stopped dripping, then place it right side up on the towel to dry.
Santa Advent Calendar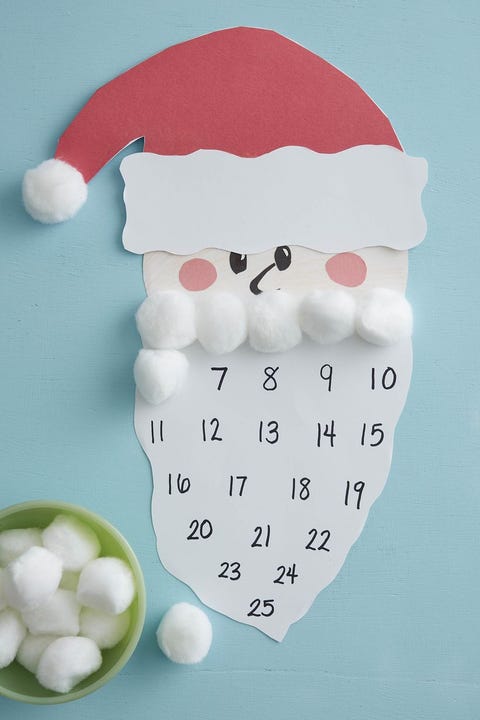 Brian Woodcock
Help Santa nail his Christmas look — one cotton ball at a time. First, cut out Santa's head and red hat on pieces of white and red paper. Draw on his eyes, pink cheeks and nose, then jot down 1-25 on his white beard. Starting December 1, have your kids tape up a cotton ball until Santa's beard is complete.
DIY Snow Globe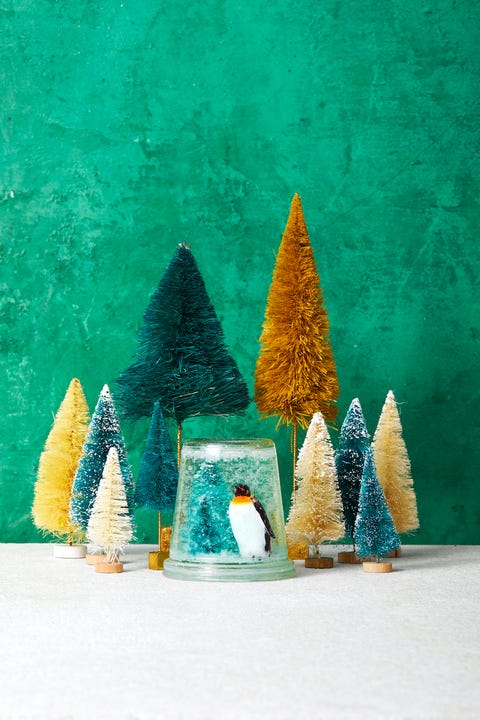 Danielle Daly
Similar to vignettes, except this version is definitely more appropriate for younger kids. Once you have the jar you want to use, make sure to clean it thoroughly. Then, arrange your scene using bottle brushes and figurines and glue them to the top of the jar. Now it's time to create some sparkle: add 1-2 teaspoons of glitter to the jar. Fill it with distilled water, nearly all the way to the top. Then add a few drops of glycerin and stir. Add some glue to the top of the jar and then place it on the base, and once dried, flip it to see some magic.
Twig Ornaments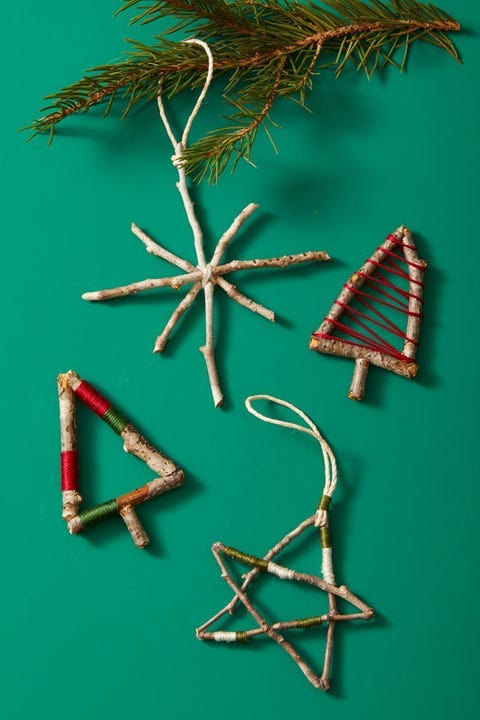 Mike Garten
This craft comes with an adventure: First, take a foraging walk outside to gather twigs. Then, use glue to create holiday shapes and finish with festive embroidery thread wrapping.