Why Prince George Wasn t a Page of Honor at King Charles First State Opening of Parliament
Can't get enough of PEOPLE's Royals coverage? Sign up for our free Royals newsletter to get the latest updates on Kate Middleton, Meghan Markle and more!
Prince George Had A Particularly Touching Role At The King's Coronation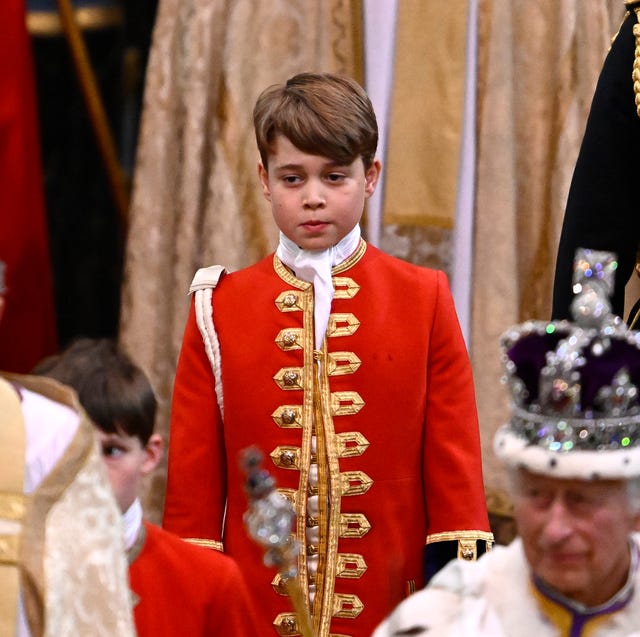 Prince George was given a starring role at King Charles III's historic coronation, that took place in London's Westminster Abbey on May 6.
The nine-year-old royal, who is now second in line to the throne, was front and centre of the coronation ceremony in a sweet red military-style uniform as he took his place as one of King Charles' pages of honour on the day. These traditional uniforms were first worn at the coronation of King Edward VII in 1902.
Young Prince George was tasked with helping carry his grandfather's robes as he made his way into London's Westminster Abbey for the official ceremony, along with fellow page boys Lord Oliver Cholmondeley, Ralph Tollemache and Nicholas Barclay.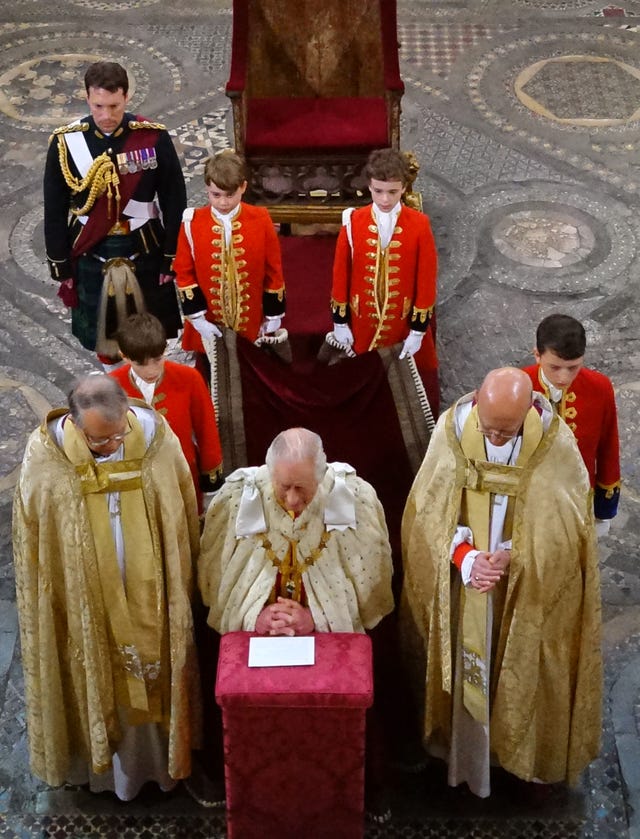 Photographers snapped the touching moment that Prince George lifted the King's opulent robes while wearing smart white gloves, and walked with him into the coronation – as well as the cheeky moment in which the young royal seemed to stick his tongue out.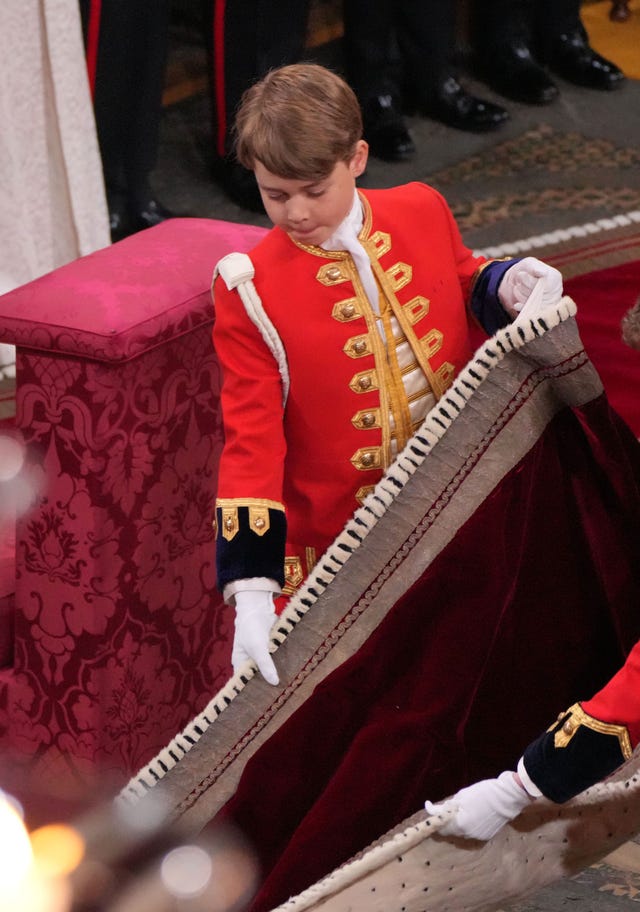 The Queen's robes, meanwhile, were carried by her grandsons Freddy Parker Bowles, Louis Lopes and Gus Lopes as well as her great-nephew Arthur Elliot.
Prince George's father, Prince William, also had a significant role in the coronation ceremony, kneeling before his father the King and pledging his loyalty and allegiance. The 40-year-old Prince placed his hands in his father's and said, 'I, William, Prince of Wales, pledge my loyalty to you and faith and truth I will bear unto you, as your liege man of life and limb. So help me God.'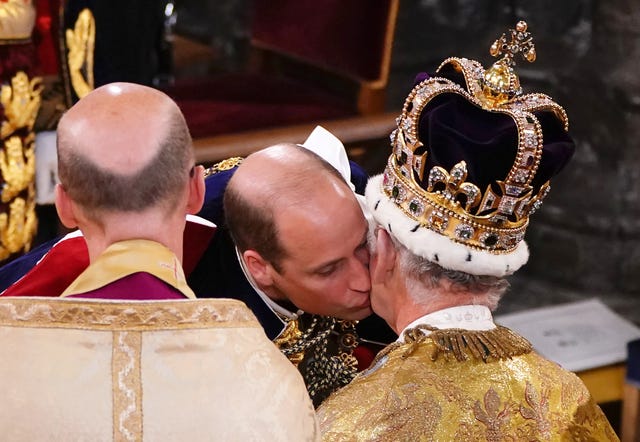 The heartfelt moment saw Prince William touch his father's crown and kiss the new monarch on the cheek, to which King Charles seemed to respond with 'Thank you, William.'
Clementina Jackson is the Fashion Editor at Cosmopolitan and Women's Health UK, covering everything from and catwalk trends to buzzy brands and the cult products you need to know about (and shop before they sell out). She also commissions first-person and long-form fashion features, oversees and tests out the latest industry innovations. Clementina previously worked as Digital Fashion Editor at , during which time she profiled high-end designers, interviewed everyone from Priyanka Chopra to Jane Fonda, and launched the franchise to shine a light on size-inclusive fashion. During this time, she was also named as a PPA 30 Under 30 award winner. Having worked in journalism for more than six years, Clementina has also written for the likes of , , , and , covering everything from luxury travel, lifestyle and restaurants to photography and interiors.
Why Prince George Wasn't a Page of Honor at King Charles' First State Opening of Parliament
Janine Henni is a Royals Staff Writer for PEOPLE Digital, covering modern monarchies and the world's most famous families. Like Queen Elizabeth, she loves horses and a great tiara moment.
King Charles' first State Opening of Parliament brought the Pages of Honor back together — but Prince George was missing!
On Tuesday, the King kicked off the first start of the parliamentary year of his royal reign at the Palace of Westminster. Much of the pomp mirrored the pageantry seen on his May 6 coronation day, highlighted by King Charles' second time wearing the Imperial State Crown.
The State Opening of Parliament also saw four of the eight Pages of Honor that attended to the King and Queen Camilla during the crowning ceremony return to reprise their roles. Lord Oliver Cholmondeley, Nicholas Barclay and Ralph Tollemache helped carry the King's robes as they did on May 6, while Arthur Elliot did the same for his great-aunt Queen Camilla. The boys also got to show two newcomers the royal ropes: Charles van Cutsem attended to Charles, while William Keswick helped Camilla.
Gert's Royals explains that Pages of Honor are "typically sons of extended family or friends and are usually 10-13 years old" — and that their tenure is contingent on the traditional outfits.
"How long a page of honor serves, depends on how long they can fit into the uniform. Pages of Honor only perform duties at a few events. So, the uniforms are passed down from page to page and not custom-made," the blog states.
In sustainable style, the scarlet tunic uniforms that King Charles' coronation pages wore were originally made during Queen Elizabeth's reign, and Oliver, Nicholas and Ralph sported the outfits again on Tuesday.
Oliver is the son of David and Rose, the Marquess and Marchioness of Cholmondeley, who are Prince William and Kate Middleton's neighbors in Norfolk. Ralph is the son of the King's godson Edward Tollemache, and Nicholas is the grandson of Sarah Troughton, one of the six Queen's Companions (a modern take on ladies in waiting) to Queen Camilla, the Daily Mail reported.
New Pages of Honor Charles and William have similar family ties. Charles is the son of Prince William's close friend Hugh van Cutsem (whose elder daughter Grace, Prince William's goddaughter, went viral as a bridesmaid at his wedding to Kate in 2011), while William is the grandson of Queen's Companion Lady Sarah Keswick.
While it may have seemed strange for Prince George to be absent, Gert's Royals reports that there was no scheduling snafu. According to the blog, "Royals do not typically serve as Pages of Honour, except for extra special occasions like coronations. That is why Prince George only served as Page for the Coronation."
On May 6, Prince William and Kate Middleton's eldest royal son made modern royal history with his coronation participation as a Page of Honor. The Telegraph reported that Prince George, who was 9 at the time, became the youngest future king to play an official role in a crowning ceremony. While his grandfather King Charles and great-grandmother Queen Elizabeth similarly attended their parents' coronations in 1953 and 1937 as children, they only watched the service.
Prince George stepped into the spotlight with Oliver, Nicholas and Ralph while Camilla was supported by Arthur (who is the grandson of her sister Annabel Elliot) plus her three grandsons — Gus Lopes, Louis Lopes and Freddy Parker Bowles. Gus and Louis are the twin sons of Camilla's daughter Laura Lopes, while Freddy is the son of her son Tom Parker Bowles.
The eight youngsters wore traditional uniforms for the historic crowning, processing with the royal couple for their entries and exits at Westminster Abbey. Later, they joined the King and Queen on the balcony of Buckingham Palace to greet the cheering crowds — where cameras caught an iconic shot of Freddy wowed by the turnout!
Before the coronation day, Prince George's involvement was a subject of family discussion behind the scenes as Prince William and Princess Kate juggled the unique honor with the pressure it might put on their son's shoulders.
A Kensington Palace spokesperson said, "We're all very excited about Prince George's role in the coronation, it will be an incredibly special moment."
Can't get enough of PEOPLE's Royals coverage? Sign up for our free Royals newsletter to get the latest updates on Kate Middleton, Meghan Markle and more!
The Prince and Princess of Wales were "cognizant that he is old enough to understand what's going on," a royal source told PEOPLE at the time. But they were mindful that normal life resumed back in the classroom, where the coronation would likely be the talk of George's classmates.
"His parents are very excited and delighted that he is a page," a spokesperson for the Prince and Princess of Wales told PEOPLE at the time. "It's something that his parents have thought long and hard about and are very much looking forward to — and I'm sure George is too."
This week is big for the Prince and Princess of Wales' eldest son, as he focuses on exams at the Lambrook School. According to Hello! magazine, Prince George is believed to be taking the ISEB Common Pre-Tests. The exams are typically taken by students in Year 6 (the American equivalent of fifth grade) and "used to assess a pupil's attainment and potential prior to entry into a senior school," the U.K. tutoring service Simply Learning Tuition states.
Prince William even referenced the tests when explaining why Princess Kate wasn't with him in Singapore for the Earthshot Prize. The festivities kicked off with the inaugural Earthshot Week on Monday and capped with the glamorous environmental prize ceremony on Tuesday.
"Catherine is very sorry she can't be here. She is helping George through his first set of major exams," the Prince of Wales, 41, said in a speech at the United for Wildlife summit on Monday morning.
PEOPLE learned in September that Princess Kate, 41, would not join her husband at the third annual event because the inaugural Earthshot Week coincided with Prince George's exams. Instead, the royal mom stayed home in Windsor to support him.