A Full Calendar of All March Holidays and Observances in 2023
March 20
March Holidays and Observances for 2023 That Give Us Every Excuse to Celebrate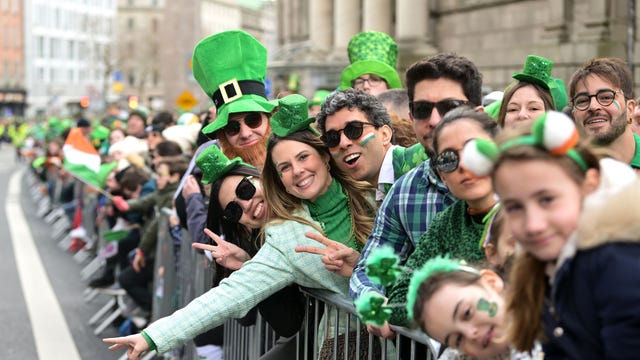 From the first signs of Spring to Daylight Savings, March is a month full of new beginnings. As the third month of the year, Mother Nature begins to show off her colors in lively blooms. And what better way to welcome the new season than to celebrate every single occasion possible, right?
St. Patrick's Day may be one of the most popular celebrations during the month, but before you go decking everything out in green, consider this your reminder that March is jam packed with unique observances. From celebrating women's history all month long to even having a full week dedicated to our favorite pastime of procrastination, there's surely an excuse to make every day a holiday. No matter how big, small, silly or serious the day is, here's a birds eye view of what March has to offer.
March Daily Holidays and Observances
March 1: National Peanut Butter Lover's Day, World Compliment Day, National Pig Day
March 2: Dr. Seuss's Birthday, National Read Across America Day, Old Stuff Day, World Teen Mental Wellness Day

March 3: National Anthem Day, National Mulled Wine Day, World Wildlife Day, National Day of Unplugging, Employee Appreciation Day

March 4:National Pound Cake Day
March 5: National Cheese Doodle Day
March 6:National Dentist's Day
March 7:National Cereal Day, Flapjack Day
March 8: International Women's Day
March 9:National Barbie Day, Get Over It Day, World Kidney Day
March 10:National Women and Girls HIV/AIDS Awareness Day
March 11:National Johnny Appleseed Day, Promposal Day
March 12:Daylight Saving Time, National Girl Scout Day, Working Moms Day
March 13: National Napping Day, K9 Veterans Day, Good Samaritan Day
March 14:National Pi Day
March 15:The Ides of March
March 16:National Panda Day, Artichoke Day, Freedom of Information Day
March 17:St. Patrick's Day
March 18:National Sloppy Joe Day, Awkward Moments Day, National Corn Dog Day
March 19: Certified Nurses Day, Let's Laugh Day
March 20:First Day of Spring
March 21:National Common Courtesy Day, California Strawberry Day, French Bread Day, World Down Syndrome Day
March 22:National Goof Off Day, World Water Day
March 23:National Puppy Day, World Meteorological Day
March 24:National Cocktail Day, World Tuberculosis Day
March 25:National Tolkien Reading Day
March 26:Epilepsy Awareness Day, National Spinach Day
March 27:National Spanish Paella Day
March 28:National Black Forest Cake Day
March 29:Mom and Pop Business Owners Day, Manatee Appreciation Day
March 30:National Take a Walk in the Park Day, Doctors Day
March 31:National Prom Day, Crayon Day, Tater Day
March has two zodiac signs—Pisces ♓️ and Aries ♈️. If you were born between February 19 – March 20, you're a Pisces, typically known for being empathic, artistic and dreamy. If you were born between March 21-April 19, you're an Aries, typically known for a competitive, energetic, fearless spirit.
March Weekly Holidays and Observances
National Invest In Veterans Week (March 1-7)
International Women's Week (Week of March 8)
Endometriosis Awareness Week (First full week of March)
National Procrastination Week (First two weeks in March. or whenever it's convenient)
Read an E-Book Week (First full week of March)
Girl Scout Week (Week of March 12)
National Introverts Week (Third full week of March)
National Physicians Week (March 25-31)
March Monthly Holidays and Observances
National Women's History Month
Endometriosis Awareness Month
Multiple Sclerosis Awareness Month
National Cerebral Palsy Awareness Month
Irish-American Heritage Month
National Craft Month
National Cheerleading Safety Month
National Brain Injury Awareness Month
Expanding Girls' Horizons in Science and Engineering Month
National Kidney Month
National Nutrition Month
National Social Work Month
Chaise Sanders is an Associate Editor at Cosmopolitan, where she covers anything from lifestyle and beauty to entertainment and style. Wanna upgrade your skincare game? She's got you covered with the best facial cleansing brushes. Or maybe you're in need of a new true crime show to binge? Got that covered too! Prior to joining the Cosmo team, Chaise was an editor at Country Living (also part of the Hearst fam) where she interviewed celebs like Dolly Parton, LeAnn Rimes and even Martha Stewart. Now, as one of the Big Apple's newest residents, there's a good chance that you can catch her checking out an Insta-worthy cafe or spending way to much $$$ in vintage stores.
A Full Calendar of All March Holidays and Observances in 2023
The start of spring and St. Patrick's Day aren't the only things to celebrate this month.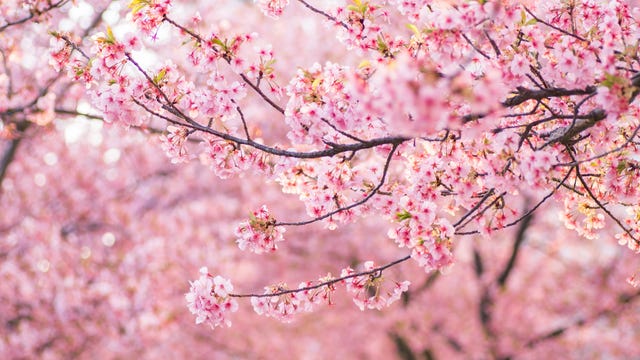 March may be known for the start of spring and St.Patrick's Day, but honestly, the month has so many other special days to offer. So while you're decorating everything in green and getting the kids excited about outdoor activities, be sure to check out some other March holidays and observances this year.
We've taken the time to compile all the national, federal and quirky unofficial holidays that fall during the third month of the year. As you take a scroll through this list, you'll find out what day Purim falls on this year, when you should prepare to acknowledge International Women's Day, as well as monthly observances such as Women's History Month (because inspiring and trailblazing women deserve to be acknowledged) and National Color Therapy Month.
This year, don't let March babies have all the fun. Dive into this directory of a host of festivities that you can enjoy all month long.
March Holidays and Observances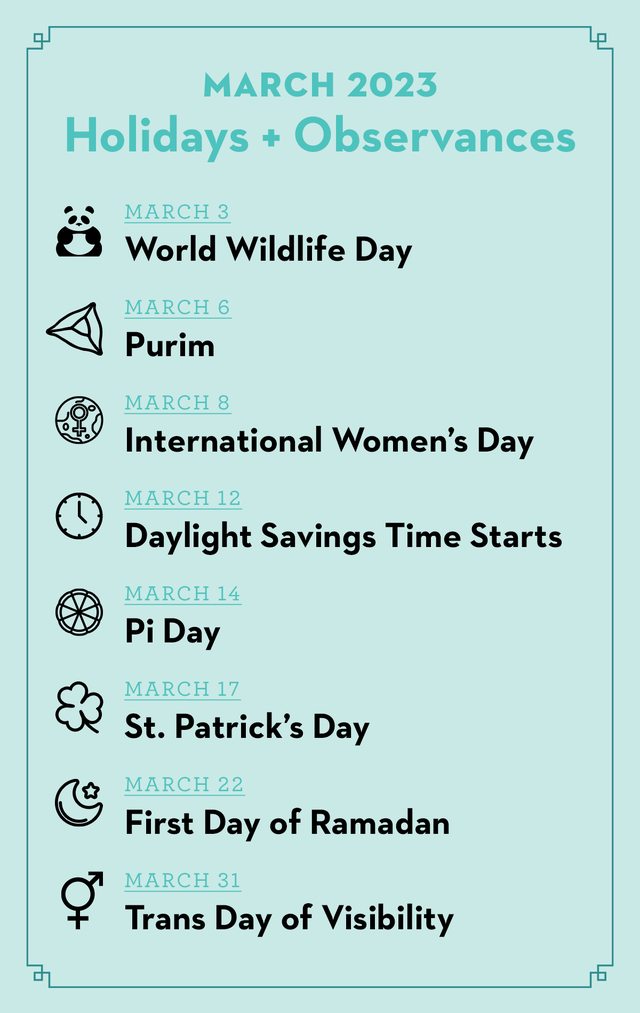 March 1
World Candle Day
World Compliment Day
World Music Therapy Day
World Seagrass Day
National Peanut Butter Lover's Day
Saint David's Day
Self-Injury Awareness Day
Women's History Month
World Music Therapy Day
Zero Discrimination Day
Baby Sleep Day
National Black Women in Jazz and the Arts Day
National Pig Day
National Wedding Planning Day
National Welsh Corgi Day
Plan a Solo Vacation Day
Share a Smile Day
March 2
Texas Independence Day
World Teen Mental Wellness Day
Read Across America
National Banana Cream Pie Day
March 3
World Wildlife Day
World Birth Defects Day
Employee Appreciation Day
World Hearing Day
National Anthem Day
Missouri Compromise
National Mulled Wine Day
March 4
National Grammar Day
National Hug a G.I. Day
World Obesity Day
National Pound Cake Day
National Snack Day
March 5
March 6
Casimir Pulaski Day
National Dress Day
National Oreo Cookie Day
National Dentists Day
Purim
National Day of Unplugging
Dred Scott Case
World Tennis Day
National Frozen Food Day
March 7
Vermont Town Meeting Day
National Be Heard Day
World Plant Power Day
National Cereal Day
National Flapjack Day
Sock Monkey Day
March 8
National Proofreading Day
International Women's Day
National Retro Video Game Day
Discover What Your Name Means Day
March 9
National Get Over It Day
National Popcorn Lover's Day
National Meatball Day
World Kidney Day
March 10
Harriet Tubman Day
National Hug Your Dog Day
National Pack Your Lunch Day
March 11
March 12
National Girl Scout Day
Daylight Saving Time Starts
National Plant a Flower Day
March 13
National Good Samaritan Day
National K9 Veterans Day
National Napping Day
March 14
International Day of Mathematics
National Potato Chip Day
Pi Day
White Day
March 15
March 16
March 17
Evacuation Day
Saint Patrick's Day
World Sleep Day
March 18
National Biodiesel Day
Awkward Moments Day
March 19
National Let's Laugh Day
International Read to Me Day
St. Joseph's Day
March 20
World Oral Health Day
French Language Day
National Kick Butts Day
National Proposal Day
Spring Equinox (Start of Spring)
International Day of Happiness
March 21
National Common Courtesy Day
National French Bread Day
International Day for the Elimination of Racial Discrimination
National Fragrance Day
World Down Syndrome Day
World Puppetry Day
World Social Work Day
World Poetry Day
International Day of Forests
March 22
First Day of Ramadan
World Water Day
National Goof Off Day
March 23
National Near Miss Day
National Tamale Day
National Puppy Day
World Meteorological Day
March 24
World Tuberculosis Day
National Cheesesteak Day
March 25
Maryland Day
National Medal of Honor Day
International Waffle Day
Earth Hour
March 26
National Spinach Day
Prince Kuhio Day
Purple Day
March 27
March 28
March 29
National Vietnam War Veterans Day
National Smoke and Mirrors Day
National Mom and Pop Business Owners Day
March 30
National I am in Control Day
National Doctors' Day
March 31
César Chávez Day
National Crayon Day
World Backup Day
Trans Day Of Visibility
Week-Long Observances
Chocolate Chip Cookie Week, Girl Scout Week, National Aardvark Week, Women in Construction Week – March 5 to 11
Sea Week – March 5 to 13
American Chocolate Week, National Anonymous Giving Week – March 19 to 25:
National Introverts Week – March 20 to 26
National Tsunami Awareness Week – March 24 to 30
Month-Long Observances
Adopt a Rescued Guinea Pig Month
American Red Cross Month
Berries and Cherries Month
Brain Injury Awareness Month
Dolphin Awareness Month
Endometriosis Awareness Month
Expanding Girls' Horizons in Science and Engineering Month
International Ideas Month
Irish-American Heritage Month
Listening Awareness Month
Mad for Plaid Month
National Athletic Training Month
National Celery Month
National Cerebral Palsy Awareness Month
National Cheerleading Safety Month
National Color Therapy Month
National Craft Month
National Crochet Month
National Deaf History Month
National Flour Month
National Frozen Food Month
National Music in Our Schools Month
Women's History Month